COLLEAGUES SAY:
"Some very stimulating and descriptive words have told me they love the chance to play a part in a Kris Anderson media script.  They just seem so much more effective communicating the message when they are arranged by a caring, creative and knowledgeable professional. What I truly enjoy about Kris is the enthusiasm she brings into the recording session.  Voice talent actors love Kristina for her performance-enhancing direction. In my position as a Sound Engineer, under her skillful guidance, creating ideas and bringing them to life is a joy. She has the talent, the knack, the timing.  Use her, she really, really works.  But wait there's more…she smiles!"
Ron Klohs
Dolphin Sound
KHNL NBC 8 & K5 The Home Team
Honolulu, Hawaii
• • •
"Kris Anderson is a consummate communications professional.  As former Director of Marketing at North Hawaii Community Hospital, I had the pleasure of working with Kris for over six years.  She helped write our annual reports, brochures and ads.  She was also key to the communication launch of a new home health service line for the hospital.I have every respect for Kris` abilities, experience, and dedication to getting the job done in the finest way possible.  We were fortunate to have Kris's talent available to us and the products that she delivered were consistently first-class, cutting edge and perfectly structured.It is with pleasure and pride that I endorse Kris Anderson's work, vision and professionalism in the fullest and most complete way possible."
Jonathan H. Guilbert
Former Director of Marketing, NHCH
Kamuela, Hawaii
• • •
  "The Copy Righter" Cartoon Testimonial: Drawing  of me in action.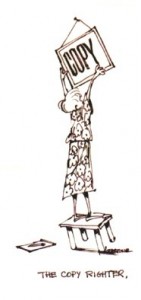 [Cartoon by my agency Art Director partner of five years,
Bill Fortune
Irvine, California]
"Kris Anderson worked with me as a copy partner in developing award winning advertising.
Kris completely understands the application of all the copy techniques necessary to create effective and convincing advertising communications.In communicating by word and visual to a mass audience you need to do more than inform or define.
To be successful you need to create and develop concepts. A concept stops the reader/viewer and makes them want to know more and when so involved they then participate in the communication process. On many occasions during our time together,  Kris contributed to the creation of effective concepts. This is not only a skill but a natural talent and Kris has that talent.
Although the communication  effort is striving to reach a mass market in today's marketing,  you are still talking to an individual which requires the right words wrapped around the right idea. Kris can easily do this and I would recommend her writing for all levels of communications."
Bill Fortune
(Former) Creative Director
Irvine, California
• • •
"There are three things that matter when you're choosing a writer.First, deadlines. Every good writer knows a deadline is downright holy, a sacred trust that must be honored, no matter what.Second, you need someone who can really write, somebody who can line up sound and meaning and mangle language without getting in its way.The third thing is where it gets tricky. After all, lots of writers can write perfectly well and most of them can even stop fussing in time to make whatever ridiculous deadline has to be met.But very few writers have that magical third thing (and if they don't have it, you'll know it, because it's impossible to fake). It's enthusiasm, and Kristina Anderson has it in super-size. Kristina takes an honest-to-goodness delight in her topics that propels her into illuminating the unexpected corners of a story. And she does it in a refreshingly genuine voice that beckons the reader to come along and enjoy the ride."
Joyce Koch
(Former) Vice President/Creative Director
Campbell Mithun
Irvine, California
• • •
Kristina is a wonderful writer. She has helped give my company greater visibility and buzz with
marketing pieces such as blog posts, email blasts, press releases and promotional postcards. She's even helped us with magazine articles, photography and website copy. I love working with her! Her professionalism, creativity and spontaneity make it a pleasure and super comfortable!
Shirley Wagner, ASID-NCIDQ
Design Principal
 Fine Design Interiors, Inc.
Kamuela, Hawaii
• • •
"I worked with Kris Anderson for about five years at an agency before starting my own firm.  Kris is always professional, extremely creative and ready to put in 110% to get the job done – and always within deadline.  She is delightful to work with and she comprehends the subtleties and nuances of various types of buying audiences which is very important when you're concerned about impact and results. She also understands that the client is always right.  Some creatives have a difficult time dealing with client input or criticism of copy – not Kris.  She is open-minded and mentally equipped to put forth the effort to make the client happy – while at the same time creating effective, award-winning copy.  What more could an Account Exec ask for?"
Linda White
Agency Principal
Strategies, A Marketing Communications Corporation
Santa Ana, California
• • •
"When creating a Web campaign, we learned that the headline is instrumental as you have literally seconds to catch the interest of the reader to draw their attention into the rest of the copy before they move onto the next site.  Kris Anderson cleverly created expert headlines and taglines for our company's new site that immediately captured the interest of potential customers.  These enticing words convinced them to read the rest of the information she skillfully crafted to persuade them to contact us.  Within the first two weeks our site was up on the 'Net, we had four appointments and we're working on the invoices now!   Kris is an absolute joy to work with, she went the extra mile for us and I highly recommend her for any project where words have the power to make a positive difference."
 Ilene Harrington
Vice President of
Sales and Marketing
Redi-Heating & Air Conditioning Co., Inc.
Palatine, Illinois
• • •
"I was very fortunate in that Kris was the first "real" copywriter I had ever worked with. She made it easy for me as an art director, to develop concepts and push for the best ideas. She was a true pleasure to work with and to just be around. I count her as among those few I've known in this business as a true friend, as well as a colleague."
Marvie Blair
Creative Director
Olson/Kotowski, Inc.
Torrance, California
• • •
 "If you want to know what it's like to work with an outstanding communications professional, look no further than Kris Anderson.
As the former Manager of Corporate Communications for a Fortune 500 subsidiary, I had the great pleasure of collaborating with Kris for nearly seven years.  She was our chief wordsmith, and I wouldn't have wanted anyone else in that role.  Whether we needed a press release, a product marketing brochure, a video script, or trade journal ad, Kris always came through with wording that was pitch perfect. Our products were quite technical and varied and the markets we served extremely diverse, yet Kris had an amazing ability to distill the complex jargon and ideas and present them in a clear, concise and "user-friendly" way.  I was always eager to read the first draft of her copy because I couldn't wait to see how she had managed to make the complex understandable; the mundane, interesting. And she did. Every time.
Kris often had to pull off these literary feats under impossibly tight deadlines, yet she always came through.  In addition, her composure and professional demeanor allowed her to interact and relate well with anyone in our company, from engineers and account managers all the way up to the CEO.
We were very privileged to be the beneficiaries of Kris's talent and I recommend her heartily and without hesitation."
Mark Brenner 
Former Director of Marketing
Irvine, California
• • •
"Kris Anderson–Copywriter Extraordinaire!  I had worked with Kris for the better part of a decade and am more than happy to write this testimonial–not only about a great working relationship but a great friendship.
A True Professional.  Whoever may think that the Big Island lacks in professional writing talent sure hasn't read anything Kris has written.  Her work is compelling, dynamic and always interesting. She can deftly inject life into financial advertising and caring into medical-related materials.
She has a wide range of knowledge that she draws from and yet is not afraid to get entrenched in researching areas that may not be familiar to her.
As an account director, I always felt that Kris could deliver her material on time and on topic. I also have full confidence in her ability to work directly with the client.
She is fully set up to "work from afar" and totally capable of managing her projects remotely with clients around the globe. (I should know, I am frequently in communication with her whilst on the other side of the world!) CopyWest is a sure bet and I look forward to a continued working relationship, now and in the future."
Louisa Gregory, Account Executive
Auckland, New Zealand